Valentine's Day is near and romance is in the air! Valentine's Day in Japan is a special event filled with love and affection, during which department stores showcase their best chocolates and Valentine's Day gifts. From simple $5 heart-shaped chocolate boxes to more pricey chocolate sets featuring artistic and beautiful confectionary creations, Japan does it big and focuses heavily on couples on Valentine's Day, as they do at Christmas.
Valentine's Day in Japan: Women Make the First Move
Valentine's Day, known as "Barentain Dei" in Japanese, is a holiday that started over 50 years ago when a chocolate company first introduced it to Japanese culture. Today Valentine's Day is one of the deeply rooted holidays celebrated in Japan and has become a popular event for women to participate in.
In Japan, Valentine's Day is where women give chocolates to the people in their lives, the chocolates come in three different categories:
Honmei Choco

– This type of chocolate gift is for your "true love" (honmei). Whether you're married or you have a love interest, honmei choco is what you should give on this amorous day. Women are encouraged to confess their feelings to their crushes or have a romantic day with their significant other; some women even go as far as preparing a special date, such as reserving a dinner reservation at a high-end restaurant, to celebrate with their partner or love interest. Honmei choco can be expensive store-bought chocolates or homemade ("tezukuri choco" in Japanese) chocolate delights, which are said to mean more than buying premade chocolates from a store.
Giri Choco

– Giri choco are "obligatory chocolates" given to men who aren't romantically related to the woman; e.g., fathers, brothers, male co-workers, employers, and business clients. Typically, giri chocolates are store-bought, so women spend around $5-$10 for the chocolate boxes.
Tomo Choco

– Although Valentine's Day tradition in Japan describes a woman giving chocolates to the men in her life, a new trend recently bloomed during the holiday season and has become an official custom for this holiday: tomo choco. "Tomo" means "friend" in Japanese, and tomo choco are for female friends in a woman's inner circle.
Japanese Culture Lesson: All About White Day
February 14th is the day for women to spoil their loved ones with chocolates or treat someone to giri or tomo choco, but March 14th is the day where men reciprocate with gifts for the women they received chocolates from. This day is known as White Day (pronounced "Howaito Dei" in Japanese) and started in 1978; it has also been nicknamed a "reply day" to any love confessions men may have received on Valentine's Day, which is a popular among the teen age group in Japan.
"Okaesi" means "return gift" in Japan, and this highly respected custom is not reserved to Valentine's Day gifts. For example, if you go on a trip somewhere, it's expected that you buy "omiyage" for your family, business partners, etc.; Omiyage are specially gift-wrapped items that you can buy at local tourist shops like the famous Tokyo Banana. Since polite manners are valued greatly in Japan, the practice of "okaesi" is a important, which is why White Day was established for men to give back to the women who gave them presents. Flowers, chocolates, cookies, and other goodies are often offered for sale from stores around Japan for this occasion.
Add a Little Japanese Spirit to Your Valentine's Day Chocolates
For this Valentine's Day, make your lover, friends or family a lovely box of handmade Japanese-whisky-flavored chocolates to show them you care. Whether you want to make them honmei choco or giri choco is up to you, but these whisky chocolate recipes are sure to be a creative and fun chocolate gift for your recipients.
Recipe #1: Simple Chocolate Hearts with Miyagikyo Whisky
Ingredients and Tools:
2.5-3 cups of semi-sweet chocolate chips or other easy-to-melt chocolate

1/2 – 2 Tbsp of

Miyagikyo Sherry & Sweet

whisky

Double broiler or microwaveable bowl

Heart mold tray

White chocolate chips or semi-sweet chocolate chips and extra whisky + plastic bag or icing dispenser for decorations
Directions:
Melt the semisweet chocolate completely in a double broiler or microwaveable bowl. Heat slowly, as the chocolate can change consistency is heated too quickly. Make sure the chocolate is smooth. Mix in the whisky. Use a spoon to put the chocolate-whisky mixture in the heart mold tray and place in the fridge to cool and harden.
Make the chocolate decoration by melting some white chocolate or semi-sweet chocolate. Add a small amount of the Miyagikyo whisky into the chocolate and mix. Place the mixture inside a plastic storage or snack bag and snip a small piece of the corner to easily decorate the tops of the chocolate hearts. You can also use an icing dispenser or piping bag for this part. Place the chocolates back in the fridge and let the chocolate on top cool and harden. Once complete, you can put the heart chocolates in Valentine's-Day-themed goody bags or present them in a box for your friends and family.
Note: This is a basic chocolate whisky recipe, so you can add all kinds of ingredients like the following:
Chopped pecans or almonds;

Dried fruits such as raspberries or strawberries;

Vanilla, almond, lemon, orange or other flavored extracts;

Heavy cream, milk or butter;

Orange zest;

Cookie crumbs.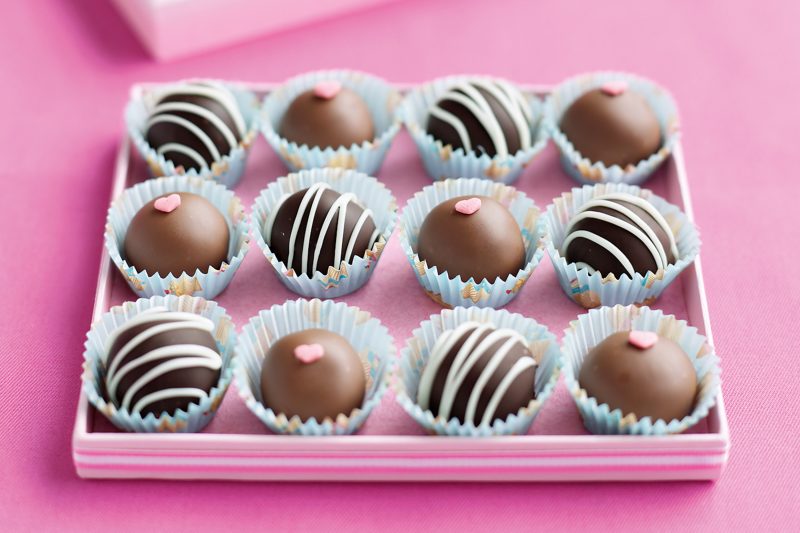 Recipe #2: Japanese Whisky Chocolate Truffles
If you want a richer, creamier chocolate treat for Valentine's Day, try this recipe:
Ingredients:
16 ounces of bittersweet chocolate chips

1/3 – 1/2 cup of heavy cream

1/4 – 1/3 cup of sweet sherry cask Japanese whisky such as

Hibiki Deep Harmony

or

Yamazaki Sherry Cask 2016

1 tsp of pure vanilla extract or other extract of your choice

Toppings of your choice: cocoa powder, coconut flakes, chopped nuts, powdered sugar, Valentine's-Day-themed sprinkles, etc.
Directions:
Melt the bittersweet chocolate chips in a double broiler. Add the cream slowly and continuously mix the chocolate together until well-incorporated and smooth. Let the mixture heat up while you stir it for an extra 3-4 minutes. Take the chocolate-cream mixture off the heat and add the whisky and vanilla extract; taste and add more whisky, if necessary. Put the bowl in the fridge and chill it for 2-4 hours until the mixture is completely chilled.
Prepare your toppings of choice in flat plates for easy rolling. When the chocolate is ready, use a small scoop, spoon or melon baller to make balls out of the chocolate truffle mixture. Use your hands to smooth out the edges of the truffle balls, but don't leave them in your hands for too long since the chocolate can become too soft to work with. Roll the balls in the toppings and place the finished product on a clean plate or storage container.
If you're not serving the truffles right away, place them in the fridge to keep them chilled and firm for a better shape. If you're handing them out, put the truffle balls in small boxes in miniature cupcake liners to help keep them in place.
Special Valentine's Day Treat Tip:
If you're planning to make chocolates for Valentine's Day from another recipe, you can add whisky to your taste to the recipe. If you're making a chocolate cake, try adding the Japanese whisky to the icing or ganache recipe or even in the cake itself. Whisky is a versatile ingredient that can be used in many recipes, so be creative!
Want to give your special someone something other than chocolates? Try the rare and exclusive Suntory Valentine "Especially for You" Whisky Set!

If you want a prepared whisky Valentine's Day gift set for your loved ones, check out these exclusive dekanta Valentine's Day chocolate and treat sets below. All you need is to pair it with your loved one's favorite Japanese whisky; perhaps a Hibiki or Yamazaki.