You may prefer to cozy up inside during the chilliest months of the year, but Japan offers opportunities for winter fun for which it's worth braving the cold. Japan's typical winter months are from December to February; the farther north you go, the colder it will be, and many of the northern regions in Japan have plenty of snowfall. If you're visiting Japan in the wintertime, we'd like to offer some inspiration.
1. Admire the holiday illuminations.
Japan has many light shows and displays around the country from December, but the lights don't stop shining after Christmas. Many light exhibits last through the New Year holiday and even into the springtime, so they're worth seeing if you get a chance to travel to Japan during this time.
If you're a fan of the dazzling lights, Tokyo is one of the most well-known areas for light shows. Some honorable mentions include Shiodome and Tokyo Midtown. In Nagoya, there's a winter illumination display called Nabana no Sato Winter Illumination, which lasts until May. Nagasaki's Kingdom of Light is an illumination event that also brightens the night until May. Some light events charge an admission fee, though many are free of charge.
Read about Nikka's Yoichi Distillery lights here.
2. Attend the Sapporo Snow Festival ("Yuki Matsuri")
This stunning event features elaborate snow and ice sculptures; in addition to grand buildings, you may even find characters from Japanese manga or anime series. In the evening, some sculptures come to life with a colorful array of rainbow lights. Inspired by high school students who built snow sculptures in Odori Park, the Sapporo Snow Festival began in 1950 and continues to be one of the most highly anticipated winter events in Japan. From February 6th to February 12th 2017, the Snow Festival in Sapporo will be open for viewing.
If you're in the mood for more snowy fun, take a break from your sightseeing by visiting the "Ice Cafe": Furano Kan Kan Mura. This special event is held until March 10th, and you can enjoy the various snow-based activities here, too! Check out more information at the Furano Kan Kan Mura site.
Bonus: Sapporo is in Hokkaido, and while you're there, why not see the elegant mating dance of the red-crowned cranes? These mating dances often occur during the winter. Find more information at the Wild Bird Society of Japan.
3. Warm up at a Japanese onsen.
What better way to banish the cold winter season than relaxing in a Japanese hot spring? Ryokan (traditional Japanese inn) onsen and Japanese outdoor bath houses are famous for their healing and relaxing abilities. If you're in Japan during the winter months, check out the following hot spring baths while you're here and experience the chilling cold and warming water of these onsens:
Kita Onsen

Tamago-yu, Takayu Onsen

Magoroku Onsen

Kawaguchiko Onsen
4. See the snow monkeys enjoying a hot bath.
Want to enjoy another part of the Japanese onsen experience? One of the most popular sights to see in Japan is the snow monkeys that love the onsen just as much as humans do. In the town of Yamanouchi in the Nagano Prefecture, a park called Jigokudani Yaen-koen or Snow Monkey Park is a dedicated onsen location for these snow monkeys.
Although it's open throughout the year, winter is the best season to spot these special creatures relaxing in their favorite hot spring. The monkeys are quite relaxed around humans, so as long as visitors abide by the park guidelines and turn off the flash on their cameras, they can get close enough to take some great pictures.
5. Take a ski trip in Japan's most prominent ski resorts.
Named the #1 Japanese ski resort, Niseko United is established in Hokkaido and encompasses four major ski areas, which are interconnected: Niseko Village, Hanazono, Grand Hirafu, and An'nupuri. With over 15 meters of snowfall every year, Niseko is certainly a winter wonderland for skiers. Find out more about this glorious snow-covered playground here.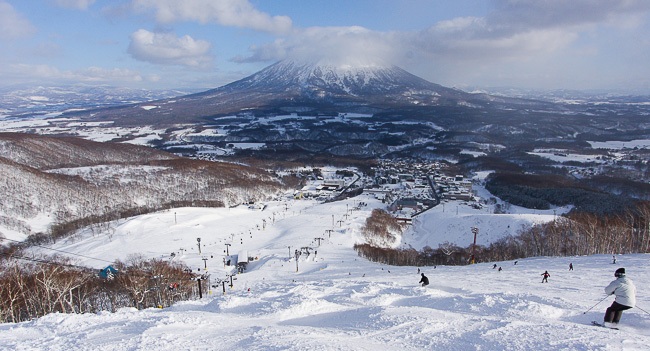 6. See the world-famous Blue Pond in Hokkaido.
Famous for its spectacular blue color, the Blue Pond or Aoiike in the breath-taking town of Biei, Hokkaido, is a world wonder and a nature photographer's dream location. Did you know that one of Apple's screensavers for its products feature the Blue Pond? (Image below.) This man-made pond was formed when a dam was built in 1988 to reduce the risk of a mudflow from a potential volcanic eruption from Mount Tokachidake. It has a natural vibrant and crystal clear blue color that is caused by the minerals found in the water. The slim, bare trees that stick up from the pond add an enchanting and unique touch to this ever-blue water source. In the spring and summer, the water take on a green, mint-like color, and the color can change depending on the angle at which you look at it, and the time of day.
7. Indulge in Japanese-style hot pot.
Known as nabe or nabemono in Japanese, hot pot is perfect for sharing with friends and family on chilly winter nights. Broth flavors vary among restaurants, so they're pre-seasoned for you. Some places allow you to season your own broth with various ingredients, such as soy sauce, chili paste, sesame oil, and more. The broth is served in a metal pot in the center of a table and continues to simmer throughout the meal while guests dip in meats and vegetables and take what they like. You can also create your own small soup bowl for a comforting and satisfying meal.
Sukiyaki is one of the most popular Japanese-style hot pots, and it has a sweet soy-sauce-based broth. The typical foods you might see in a sukiyaki hot pot are tofu, beef, mushrooms, onions, cabbage, and shirataki noodles. Another type of Japanese hot pot is 'shabu shabu,' which is the sound made when you stir the meat inside the broth. (The Japanese language includes many words that describe the sound or noise an action makes.) Shabu shabu is traditionally cooked in a clay pot. This Japanese hot pot has a variety of vegetables inside the broth, and you can cook your own meat inside the boiling water as well as pick up vegetables to eat with your meat.
8. Visit a Japanese whisky distillery.
At most distilleries that offer tours of their facilities, you can participate in tastings of the whiskies, which are guaranteed to make you feel cozy and warm inside. Some of the most well-known distilleries that provide guest tours include:
Yamazaki and Hakushu (Suntory)

Yoichi and Miyagikyo (Nikka)

Fuji-Gotemba

Mars Shinshu
If you're visiting Japan during Christmas or the New Year holiday, these blog posts will help you experience the winter holidays the Japanese way: